The Clínica Internacional de Olhão is a new outpatient unit of the Grupo Hospital de Loulé, which promises to maintain the usual quality standards of this Hospital and consolidates it as one of the largest health groups in the Algarve.

The strategic partnership in the area of Radiological Exams with the prestigious company Radis, brings to the whole of Olhão one of the most evolved Radiology units in the Algarve, constituting a unique offer in the region of integrated services in the Medical-Surgical and Imaging areas.

This new space, located on the 2nd floor of the Algarve Outlet, has a modern Multidisciplinary Clinic. With a clinical staff made up of highly prestigious professionals, Clínica Internacional de Olhão offers the community the most modern technical and scientific resources available, as well as cutting edge equipment with regard to technological quality.

This clinic comprises:
- Outpatient Unit
- Consultations
- Daily GP Attendance
- Clinical Analysis Service
- Dental Medicine Service
- Radiology and Imaging Service.

Thus a new approach to healthcare is born: more humane, more closer.

Open 08AM to 10PM.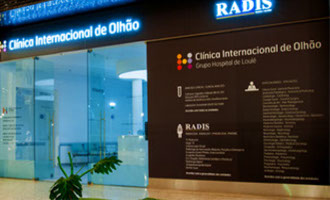 Leave us a feedback
faleconnosco@clinicadeolhao.com